About Page
Here's that page on my site that's all about me, although a lot of this site is about me anyway, or at least what I think about things, and so on. At least as much as I'm willing to mention online.
What am I
Physically, some guy who lives in the west part of North America, currently in a human form
Metaphysically, living on the Internet, may be some kind of lizard, sheep, and/or robot, or something else
Programmer by trade
Video game player by hobby
Video game maker also by hobby (and possibly my own trade later)
Oriented to the pansexual zone
Things I like doing
Playing video games
Making video games
Watching someone else play video games
Collecting video games (not obsessively, but what I'm interested in)
Listening to good or interesting music
Constructing a personal website (and helping others with such, if they're interested)
Messing with old software and games through virtualization
Building plastic model kits, including Gundam
Sewing, for practical repair and for fun
Drawing
Sleeping in
Eating out
Eating in
Snacks
Shopping secondhand items
Observing animals
Avoiding existential crises
Typical game genres
These are the ones I'm most likely to play, and not strictly the only ones I do.
Adventure (built on exploration and discovery, and not just finding every last one of a thing)
Creation (custom levels, characters, or even whole games)
First-person (with or without shooting)
Puzzle (especially nonograms/picross)
RPG (can take many forms of play, but at the core)
Favorite game series
This means I'm a fan of at least a couple games, not necessarily all.
Animal Crossing
Chibi-Robo
Digimon
Doom
Elder Scrolls
Fable
Fallout
Half-Life
Katamari
Kirby
Monster Rancher
Pokémon
Portal
The Sims
Sonic

of course

Super Smash Bros.
Tony Hawk
Not as favorite game series
These are ones where I'm not a fan of the games themselves, but I don't dislike them, instead I find other aspects interesting and enjoy those.
Monster Hunter
I like the monster designs and the Palico cat characters. I haven't gotten into the games but I have tried some demos to see if I would be interested. As far as the "befriending instead of hunting" angle, I also have tried the Stories games.
Favorite Pokémon
I have many Pokémon that I like, so here's a probably fairly recent collection of algorithmically decided top favorites.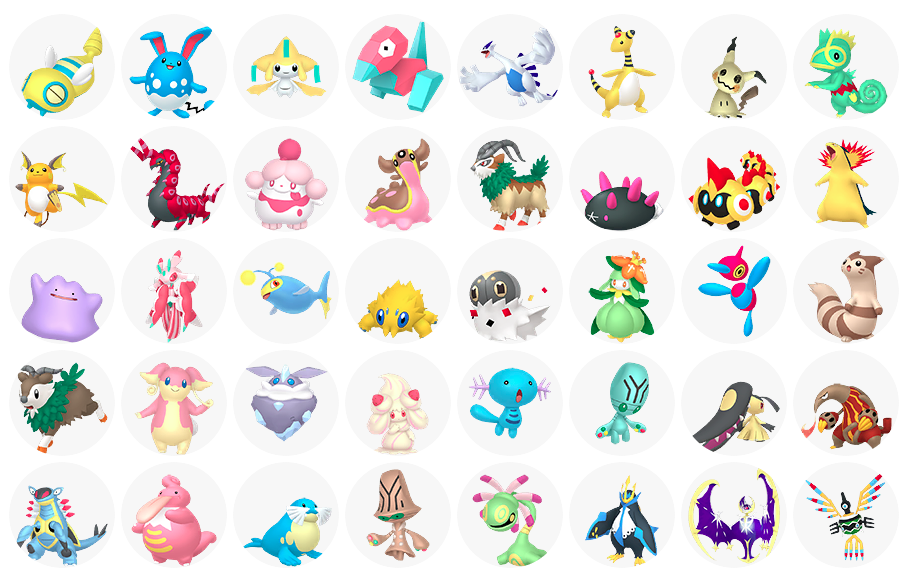 Favorite Digimon
I have many Digimon that I like, and here's a non-conclusive list in probably alphabetical order.
Agumon
Armadillomon
Biyomon
Deramon
Gabumon
Gargomon
Guardromon
Guilmon
Sheepmon
Tentomon
Tokomon
ToyAgumon
Favorite Animal Crossing Villagers
I also like a bunch of Animal Crossing villagers. Most are some type of cute, and here are some favorites.

Anabelle

Apollo

Aurora

Beau

Cherry

Coco

Cube

Cyd

Dom

Dotty

Eloise

Fang

Inkwell

Julia

Knox

Kyle

Lucky

Marina

Marshal

Mathilda

Raddle

Ribbot

Roald

Scoot

Sherb

Static

Stitches

Tex
Likely game character species
Depending on available options and how I feel at the moment, higher up on this list might be more likely.
Lizard
Robot
Bird
Bug
Sheep or goat
Cute round small precious thing (think Kirby or Nopon)
Bear
Some type of alien
Whale, seal, otter, or related (if aquatics are an option)
Music genres I tend to like
I've liked songs across a lot of genres, but this is where a lot of those favorites are.
Rock
Metal
Classic Rock
Classical
Electro-swing
Happy Hardcore (also other related hardcore-type things)
Techno/Rave (typically around 90s-2000s, not counting trance)
Eurobeat
Oldies (typically 50s-60s, give or take a couple decades)
Pre-2000 pop (to a degree)
Pre-2010 pop (to a slightly lesser degree)
Specific types of hip-hop and rap (difficult to describe briefly, but largely older songs and select newer songs I don't find annoying)
Contact
If you're a sentient being and not just a spambot or scammer, feel free to send an electronic mail message to sonickitsune on protonmail. There's no specific reason you need to contact me, as long as it's not just spam. I'll check this only occasionally so don't expect fast replies, but I'll do my best to make them decent replies at least.
You can also look at my old Twitter at SonicKitsune (no extra or altered characters), but I'm not active there anymore, and it's more being used as an aggregate for various things I do, including RSS feeds from this site and maybe live notices for my Twitch streams on the off-chance I do those. If you need to contact me, electronic mail is preferred (unless you already have a link on some chat service I use), but you may spot me active on another site that has direct message functionality, though no guarantee if I'll see it.

I've considered putting a "before you follow" type of thing here, but...
I don't really use much social media or things that can be considered as such, so the "follow" thing doesn't make sense. It's more of a "compatibility" thing, and I don't mean for dating.
It really just boils down to "don't be an irredeemable asshole". So, just don't be one of those, or a spambot, and things will probably be fine. Also try not to bring up politics, because that's usually just a request to make a lot of enemies in a short time.
Also, any opinions I make in my posts are subject to change, even if the posts themselves don't, but later posts may reflect those changes.