Suicide Squad Soundtrack Something Sreview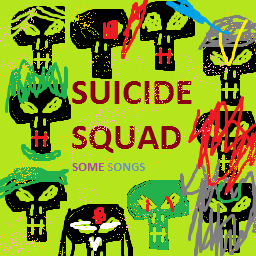 Well Suicide Squad is a movie. Some people don't like it. I haven't seen it. But it does have some kinda licensed soundtrack. And I feel like I could look at the songs and then try to type words about how I feel about those songs. It's the usual thing I do sometimes.
---
Purple Lamborghini by Skrillex and Rick Boss the Ross
Well, here's a start. It's not only a rap song, it's also a dubstep kinda thing too. So, yeah. If you want a loud noisy thing to play at people, here it is. I guess.
Sucker For Pain by Lil Wayne, Wiz Khalifa, Imagine Dragons (???), Logic, Ty $, and finally, X Ambassadors
Looking at who's on this track what the hell is this supposed to be? Is this rap? A song that happens to have a rapper or 12 on it? This is confusing.
Heathens by Twenty One Pilots
You probably heard this one. It's pretty good, then again I also like this band a fair bit. I wonder if this is just for the soundtrack or if it'll be on a later album of theirs. Maybe that depends on label stuff. Just wondering, in case I go get whatever their next album could be.
Standing In The Rain by Action Bronson, Mark Ronson, and Dan Auerback-onson from The Black Keys-onson
I like The Black Keys, and Mark Ronson has had some good stuff, but I had to look up Action Bronson. This one's not bad, I guess. I am not the biggest person on rap but it works for what it is.
Gangsta by Kehlani
Some kinda girl rapper not quite rapper I guess. I end up passing over songs like this all the time on the Year End 100 of various times.
Know Better by Kevin Gates
Some other rap song. I end up passing over songs like this all the time on the Year End 100 of various times.
You Don't Own Me by Grace and G-Eazy
Here's a cover. The original's a classic golden oldie and all that. I do like oldies. This one sounds like they ran it through all the modern pop filters with a new singer and some obligatory rapper. So yeah, not really feeling it. But show me some oldies and I'll check that out.
Without Me by Eminem
Speaking of oldies, this song isn't that old, but wow has it been a while, this was all over the charts in like... early 2000s. One of those Eminem hits where it's less serious and you wonder why some don't take him seriously when he's more serious. I liked this song a bunch as a kid but of course I'd mostly hear the censored version on the MTV, the uncut one is certainly suitably vulgar, and I still find it fairly enjoyable.
Wreak Havoc by Skylar Grey
This sounds like a mess of EDM and some kinda tribal drum thing. As if this song wreaks havoc with the concept of how a song works. I guess.
Medieval Warfare by Grimes
Another EDM track of some kind, that's not what they had back in the medieval days though. They had like, some kinda flute, and some kinda lute, and they jammed those together and some dude in tights sang a bunch. Maybe do that and see what happens.
Bohemiam Rhapsody by PANIC AT THE DISCO!!!!!!!!!!!!!!!
I don't find a cover of this song in this way really necessary. Panic, or the one guy who is essentially the entirety of Panic now whose name sounds like urine, went and did it anyway. It's pretty much the same musical structure but with some other guy singing. At least when Weird Al covered it, it just inevitably became polka. That's at least different.
Slippin' Into Darkness by War
Now here's a classic in classic form. Get ready to jam with this one. Yeah, it's pretty good after all these years, shows you don't need to just cover every song for the sake of a soundtrack.
Fortunate Son by Credence Clearwater Revival
It's CCR. You like CCR right? No, that's a VCR and those were annoying with how they'd eat the tapes, but CCR is a good band. A classic rock jam to jam to because it jams. And all that.
I Started A Joke by ConfidentalMX and Becky Hanson
What kind of a name is this username thing? Are they some YouTube star? I have no idea. But it sounds like a lot of violins. Is this to make up for all the violence that is probably in the movie? And some girl sings on it. It also turns out this is a cover of a Bee Gees song. Is this here because Joker reference or something? I don't really know.
So I guess overall this is an okay collection of music, some good stuff, some classics, some questionable things. The thing is I'd be much more likely to see Suicide Squad over Angry Birds, and I don't really plan to see this one either. So, yeah, that's a review, probably.