50 Shades For Free! Click Now For Samsung iPhone X 2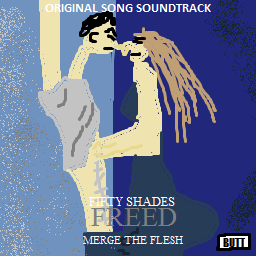 Here we go again. It's 6/9 and it's time for sex music. Thus ends the trilogy, unless they decide to make fanfics of this and they make movies of those but they changed all the characters again. Soon it's just a straight up porn with the lemon stealing whores again.
---
CAPITAL LETTERS by HAILEE SEINFELD
BLOW OUT THE SPEAKERS BY YELLING UP A LOT. I'm going to give you SEX in ALL CAPS. CRUISE CONTROL FOR ORGASM. Sounds like pop music.
For You (50 Shades Freed) (50 Shades Freed Edition) (From 50 Shades Freed) by Lamp Pain and Rita ORAORAORAORAORAORAORAORAORA
This almost sounds like a ringtone right before it DROPS THE BASS. And it has one of the directions. He wants to be inhaled like Kirby.
Sacrifice by Black Atlass, Get It, Like A Butt, and Jessie Reyez
It's a sex song, probably. Sacrifice the sex for love. Or the love for sex. Is it like a virgin sacrifice? That was a bad joke.
High by Whethan, That's Ethan With A WH
Here's a guy going OOOOOOOOOOOH onto the microphone. This is definitely a sex song. Or a weed while sex song.
Heaven by Julia Michaels
Apparently you get heaven by finding the bad boys. What you gonna do when they... no, not going to go there. Great. As in sarcastic.
Big Spender by Kiana Lede and Prince Charlezzzzzzzzzzzzzzzzzzzzz In A Can
HEY BIG SPENDER. DIG THIS BLENDER. Here's a song about wanting to spend all the money and not be with a fake rich man. I ain't saying she's a gold digger. I bet this takes place at either a rummage sale or a mall made of diamonds. It's painful to walk in one of those. Now give it up for Table 5.
Never Tear Us Apart by Bishop Briggs
Here's a loud song with really loud drums and stuff while this lady sings loudly. Something about passion. I could probably see all of these songs being used during sex parts, really.
The Wolf by The Spencer Lee Band
Doggy. ASS BLASTING RAZOR. Or whatever the hell was said. It's sort of like funk. Or maybe this song alludes to the original fanfics because there was vampires and wolves. Also breathe directly into the microphone as if a hungry wolf. Like that other song, what was it called, something about being hungry like a wolf. Oh yeah, Maroon 5's Animals. Wait, no, that was about moles, not wolves.
Are You by Julia Michaels
Are you thinking the same thing I'm thinking? IS IT SEX? Oh, you were thinking about how much that bill's gonna cost, never mind. This sounds pretty dorky in general.
Cross Your Mind by Sabrina Claudio
Is this song from Sia? There's a Sia song on here too. It kinda sounds like that, I guess. I do like cheap thrills. I don't need big spenders.
Change Your Mind by Miiiiiiiiiiiiiiike Snoooooooooooooooooooow
You can either cross or change your mind, but just make it up already. Sounds like fake trumpets. Sort of like you were going to throw a random song at the end of some 90s dubbed anime because it sounds kinda cheap.
Come On Back by Shungundunzo
Is this an euphemism? There seems to be a theme of funk-type arrangements on this soundtrack, which I'm all right with.
I Got You (I Feel Good) by Jessie J
Oh, this is a James Brown cover. I think it works better with the yelling version on the original. Much better, actually. This is just weird like that version of Crazy In Love that was on another one of these.
Pearls, But In French by Samantha Gongol and Juliette Armanet
Hella French. The actual name in French translates to Your Best Enemy. Also why do some campers keep asking me if I feel French? The air becomes French? Like with that mustard? It's like French trap or something.
Deer In Headlights by Sia
Here's an actual Sia song. She sure sings a bunch. Is this a cheap thrill? Or James Bond?
Diddy Kong Bobs by Jacob Banks
This doesn't sound like a bop. It sounds more like a soul thing.
Love Me Like You Do by Ellie Goulding
BEEP BOOP BOOBS LA-LA-LA-LA-LA-LA-LOVE ME LIKE YOU DO TA-TA-TA-TA-TA-TA-TA-TA-TA-TA-TA-TA-TA-TOUCH ME LIKE YOU DO. DANGER, BIG ROBERTSONS, DANGER.
Then 18 and 19 are just regular compositions by Danny Elfman. Movie songs. But wait, there's more! Bonus tracks. Boner tracks. U2 isn't on here though, thankfully.
Maybe I'm Amazed by Jamie Dornan
Here's a cover of either The Beatles or just Paul McCartney. I think they're as related as the Black Beatles. Pretty standard cover. Piano, singing, yeah, sure, then.
Cross Your Mind, But In Spanish by Sabrina Claudio
Is this Despacito? Generally see the above version but this time a different language.
Pearls, But In English by Samantha Gongol
It sounds a lot fancier and artsier in French. You know, a Romance language. For a movie that involves romance, probably.
Well, those were songs. And now the series is over. I think. Now just go watch porn. It has worse but better music maybe. Maybe I'll review other movie soundtracks. Are there cheap kids movies out that license half their soundtrack again? Either way, I should also keep working on the other older year reviews I've been doing, which have been taking a while because the songs are good and it's hard to make thoughts on good songs sometimes.