"Miracle NEW FREE METHOD Totally Guarantees 100000+ Totally SECRET Secrets To Get Popular Online And Fulfill Destiny"
HEY YOU!
How would you like to become POPULAR on the INTERNET???
From Mr. Internet, to Unknown, Unknown
Here is a secret opportunity THEY don't want you to know!*
* actually they really want to tell you but act like they don't
For the LOW LOW PRICE of...
your time and sanity*
* plus shipping and handling and the lives of others
YOU CAN BE INTERNET POPULAR!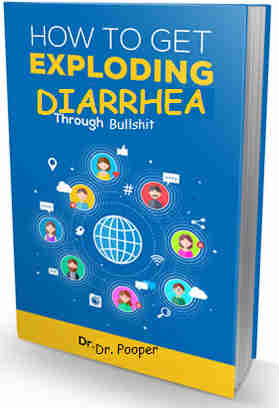 (not a real book but could easily be one)
Here's how this CUTTING-EDGE system works:
1. Get on social media
2. Buy followers
3. Be a big stupid jerk
4. Somehow still get sponsorship deals
5. Also be a rich jerk so you can complain about poor people
6. Get other people banned who disagree with you
BUT DON'T TAKE MY WORD FOR IT!
"Why did they change this website again? I'm leaving forever."
- Someone, probably
"How can I dump more gasoline on this trash fire?"
- Glorious leader and CEO of every social media
"Click here for hot nudes! I'm hot and waiting for you. Enter your free credit account!"
- The majority of users
"I couldn't stay away, so what's trending?"
- Same person as before
JOIN UP NOW!
Just send in your IP address, background checks, credit cards, human resource ID tags, phone numbers, pager numbers, citizen relocation codes, anything personal!
AND THAT'S NOT ALL!
You can have MULTIPLE social media accounts!
Now you can talk to yourself and tell yourself how great you are and how terrible other people are!*
* may result in a ban if you break too many arbitrary rules, including ones that weren't there before
SIGN UP TODAY AND RECEIVE
WITH YOUR LIFETIME* MEMBERSHIP
* or until you get banned or the very unlikely chance you manually close your account completely instead of just hiding it
PAIN
REGRET
AN EARLY GRAVE*
* early grave not guaranteed to be an actual grave and may just be a ditch on an abandoned highway
And if you ACT NOW you can also get:
COMPLETE EXASPERATION AT USING THE INTERNET
TEMPORAL CONFUSION
INABILITY TO FIND BASIC FEATURES
ACTUAL FOLLOWERS*
* supplies and people limited in amount and patience
BE LIKE EVERYONE ELSE!
JOIN TODAY!
Social media absolves all responsibility for your well-being and won't prevent stalkers from making multiple accounts or respond to your reports ever. Your account may be terminated for no reason if you're unpopular or don't follow enough celebrities. You may be terminated by followers of anyone who writes incriminating logs about your account or for incorrect use of hashtags with dedicated users. Accounts and/or account holders are expected to follow all rules as soon as and before they are made, no matter how long they're actually enforced, or if rules that don't exist are enforced, at risk of life and liberty for failure to comply. Overuse of social media may or may not result in the complete destruction and extinction of one, several, or all life forms on one or more planets. Additional side effects include excessive oral diarrhea, blunt force trauma inflicted from writing surfaces, explosive cranial perforation, unwarranted mortal statistic inflation, purposely accidental termination through lack of consideration, general population reduction, frequent armed force visits, illegal account acquisition, falsified evidence planting, true evidence excavation, severing of one or more internal organs, sale of said organs on underground marketplaces, excessive fine print formatting, running out of things to put here, stop reading this, and general decrease in quality of life.
Actual disclaimer: At this time, to my knowledge, I still do have a profile on Twitter, but it has been abandoned and effectively just serves as an RSS feed aggregate between this website and my review blog. You can click here to visit my old Twitter page, but it's probably not worth it. Any other account is an impostor, unless that one was taken over, in which case every account is an impostor. Always read the fine print, they can get you on anything. Especially if they change the fine print. Which they will.

(Back to main page)